As of 2021, the number of global digital buyers is at 2.14 billion, where retail sales are around 18.1 percent worldwide. With the rise of eCommerce, people are moving toward digital buying, and when it comes to e-commerce sites, payment plugins are a must.
Apart from ensuring smooth payment on your website, a payment plugin offers a lot, including converting customers. For a secure transaction, payment form-making, taking one time, or recurring payment, you can do many things with a payment plugin.
If you are reading this blog, I assume that you are using WP Simple Pay and eagerly looking for a better WP Simple Pay alternative for your eCommerce business. WP Simple Pay is just a Stripe payment plugin where WPSmartPay comes with Stripe, PayPal, Paddle all within a package.
In this blog, we will discuss and compare two of the most prominent WordPress payment plugins WPSmartPay vs WP Simple Pay.
WPSmartPay, an all-in-one WordPress payment solution, yet a lot to prove but taking on defeating other competitors like a storm. In a word, an underdog.

WP Simple Pay, a Stripe WordPress plugin, has proven itself to be here. Veteran but in a massive competition with its competitors.
We hope that we will differentiate and choose any of these plugins according to your needs at the end of this read.
WPSmart Pay vs WP Simple Pay: Comparison at a Glance
| | | |
| --- | --- | --- |
| Features | WPSmartPay | WP Simple Pay |
| No Coding Required | ✅ | ✅ |
| Gutenberg | ✅ | ✅ |
| Drag & Drop | ✅ | ✅ |
| Form Shortcode | ✅ | ✅ |
| Multiple Amount | ✅ | ❌ |
| Multi-Device | ✅ | ✅ |
| Donation Form | ✅ | ✅ |
| Simple Form | ✅ | ❌ |
| Form with One-Time Payment | ✅ | ✅ |
| Form with Recurring Payment | ✅ | ✅ |
| Custom Amount | ✅ | ✅ |
| One-Click Checkout Process | ✅ | ❌ |
| Product Purchase History | ✅ | ✅ |
| Customer Dashboard | ✅ | ✅ |
| Customer Details | ✅ | ❌ |
| Multiple Currency Support | ✅ | ✅ |
| Sales Report | ✅ | ❌ |
| Payment Failure & Success Page | ✅ | ✅ |
| Payment Collection | ❌ | ✅ |
| Secure Payment | ✅ | ✅ |
| Custom Field | ✅ | ✅ |
| Custom Amounts | ✅ | ✅ |
| Coupon Codes | ✅ | ✅ |
| Non-Card Payment | ✅ | ✅ |
| Embedded Form Display | ✅ | ✅ |
| Overlay Form Display | ✅ | ✅ |
| Stripe Checkout | ✅ | ✅ |
| Customize Subscription Options | ✅ | ✅ |
| Apple Pay | ❌ | ✅ |
| Google Pay | ❌ | ✅ |
| Paddle Integration | ✅ | ❌ |
| Stripe Integration | ✅ | ✅ |
| PayPal Integration | ✅ | ❌ |
| Payment Confirmation Details | ✅ | ✅ |
| Locate and Currency Settings | ✅ | ✅ |
What to Consider while Choosing a Payment Gateway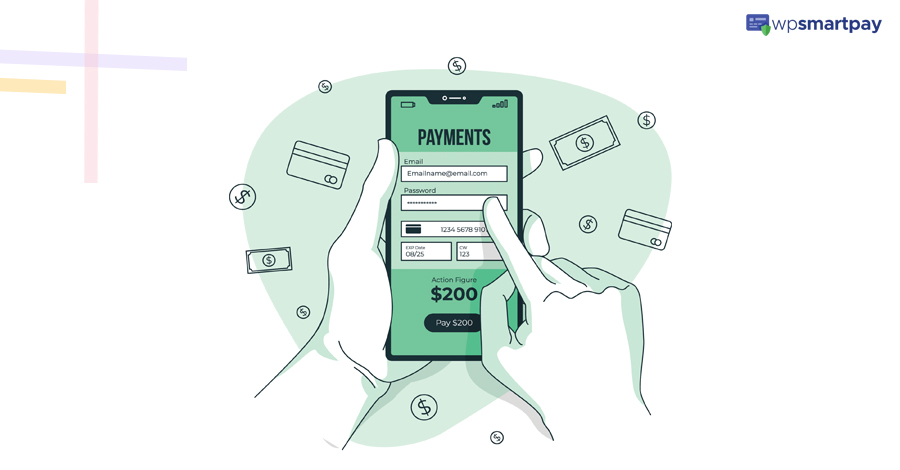 A well-established payment gateway associated with the WordPress plugin can save you a lot of work so that your business doesn't get hurt and you don't get cut. Before diving into the comparison, let's get to know which particular things you should consider about choosing a Payment Gateway.
So what are those?
No matter how small your business is, your customers will definitely compare you with the best (Amazon, AliExpress, etc.). This means they are going to expect high-end service from you too.
In terms of services and experience, some WordPress payment gateway let you customize everything according to your brand's needs.
With the help of these features, some customers won't even realize they have been directed to a third-party website for secure payment.
Nowadays, almost all checkout processes are known to be secure. But make sure your payment plugin provider is certified for following information security standards such as PCI-DSS.
PCI Standard is mandated by the card brands but administered by the Payment Card Industry Security Standards Council.
Easy Payment On All Devices
In this fast-paced world, people don't have time to sit still and think about what they want to buy. People often order stuff online on the go through their mobile phones or laptops.
According to the records from the past 2-3 years, around 15 percent of e-commerce sales take place on mobile devices. And these numbers are increasing as we speak!
While choosing your payment gateway, make sure it allows your customer to pay from any device they want.
This flexibility will not only make your customers happy and satisfied but also bring in more loyal customers.
Integration of a payment process on your website can sometimes be a pretty hectic job to do. Some of the payment getaways provide detailed instructions on how to integrate them properly, but these things often take time.
The smart thing to do here is to choose a gateway that is not slow and doesn't make you do a lot of work.
Select a payment gateway that is easy to set up and will make your customers feel comfortable while using it.
Payment gateways don't come free. They come with a price, and sometimes it will not be profitable for you.
The charges for any payment gateways can depend on various things, such as your region, the volume of sales, card type, risk factors, etc.
These costs can be set up upon your customers, which will increase the price of your products. Or, you can carry the burden yourself, and by doing these, you will not be able to make much profit.
It is always a great strategy to go for payment processors who don't have any sort of hidden charges. Also, make sure you optimize your cost as much as possible not to affect you in the long run.
Availability In Your Desired Regions:
If you own an e-commerce website, there is a high chance you are mainly targeting your local area along with international regions. But, if your payment gateway doesn't support your target region, then things might get ugly.
The customer might need to do something totally out of their comfort zone to make a purchase. But, in a worst-case scenario, some customers might even abandon the purchase altogether.
This will cause a loss of lots of business potential and will make your customer dissatisfied.
To prevent such a catastrophe, you can do some research before buying any payment gateway. And on the other hand, almost all the payment processors have a list of supported countries on their websites.
One-Time and Recurring Payment
One-Time payment often comes in handy on educational course websites. People buy a course and get lifetime access to that.
Recurring payment allows you to set up an automated billing cycle according to your preference. Companies like Netflix are a live example of this billing system, where everything is subscription-based.
These two types of payment methods are getting more and more trendy. If you have any sort of digital products or digital download products on your website, you might consider having either or both of them on your website.
Technical issues will never let you know before it arrives. It might occur at any moment. Some payment gateway providers offer tickets or emails to get in touch, which often takes a decent amount of time.
If you are comfortable talking to someone instead of emails or tickets. Then make sure your provider offers live technical support, even at least a standard working hour.
These will help you solve your technical problem quickly and keep your website healthy.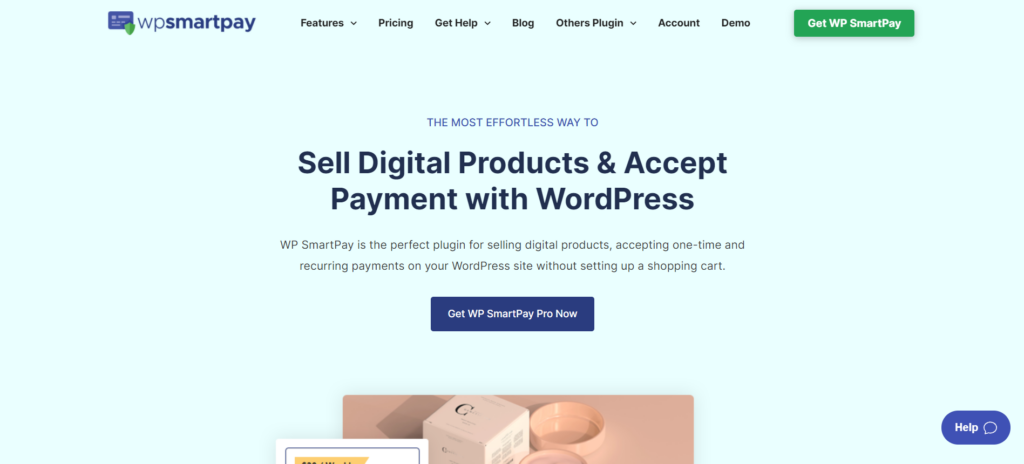 WPSmartPay is one of the best payment plugins for WordPress out there, best for its excellent recurring and one-time payments services. It is well suited for a business that prefers subscription-based payments, such as fitness and yoga, charities and NGOs, selling tickets for events, etc.
If you want to sell digital products and accept payment with WordPress, WPSmartPay is undoubtedly the best WP Simple Pay alternative. The free version has many features, but the features of WP SmartPay Pro will really make your life much easier. Also, get seamless integration including, PayPal, Paddle, Stripe, and so on.
Best Features of WPSmartPay
Zero Coding Required
Don't know anything about coding? Well, have no fear when WPSmartPay is here!
The easy and quite entertaining drag & drop feature of WPSmartPay helps you build any form within a minute. You will be able to deploy your form right away after you finish editing it.
Form Design
Love Gutenberg? WPSmartPay loves it too! WPSmartPay is fully powered by Gutenberg and you will be able to use all of its blocks according to your own preference.
Easy Builder Settings
Along with the easy drag & drop features, enjoy the accessible builder setting to put elements such as name, email, etc. along with other typography, color, font, etc, settings.
Display Form Using Shortcode
WpSmartPay instantly generates shortcodes for each form and product. You just have to copy and paste it in order to display the form.
Multiple Amount
You will be able to set multiple custom amounts for both one-time and recurring payments. Not only this, you will be able to select the preferred billing type along with the amount.
Download and Customer Management
Manage your downloadable resources after successful product sales and define who can actually download them or not. Also, manage the customer payments, their info, update any information and delete them when needed.
Complete Reporting
WPSmartPay has a built-in reporting platform for quickly viewing stats, making custom reports, and much more. Easily access the day-wise payment history with the transaction amount in a comprehensive chart view and download the chart when you need it.
Use On All Devices
All of the forms of WPSmartPay are responsive to all kinds of devices so that you can access them from phone or tablet or pc.
Types of Forms Available
Donation Form
Simple Form
One-Time Payment Form
Form with Recurring Payments
Custom Amount
One-Click Checkout Process
Event Registration Form
All Sorts of Billing Form
Webinar Registration Form
All Sorts of Admission form
Custom Service Form
And Many More…
Sell All Sorts of Digital Products
WPSmartPay is perfect if you are selling digital products on your website. From eBook to Album, graphical illustration to games, everything can be sold with the help of this payment plugin.
One-Click Checkout
The one-click checkout process of WPSmartPay will help you eliminate this tiredness. All the customer has to do is select the product, confirm the payment gateway and click the payment button.
Integrations
Additional Core Features
Product Purchase History
Customer Dashboard
Customer Details
106+ Currency Support
Sales Report
Payment Failure & Success Page
Pricing
Essential: $99 per year consists of 1 site license.
Business: $149 per year consists of 5 site licenses.
Agency: $349 per year consists of unlimited site licenses.
WP Simple Pay: Stripe Payments Plugin for WordPress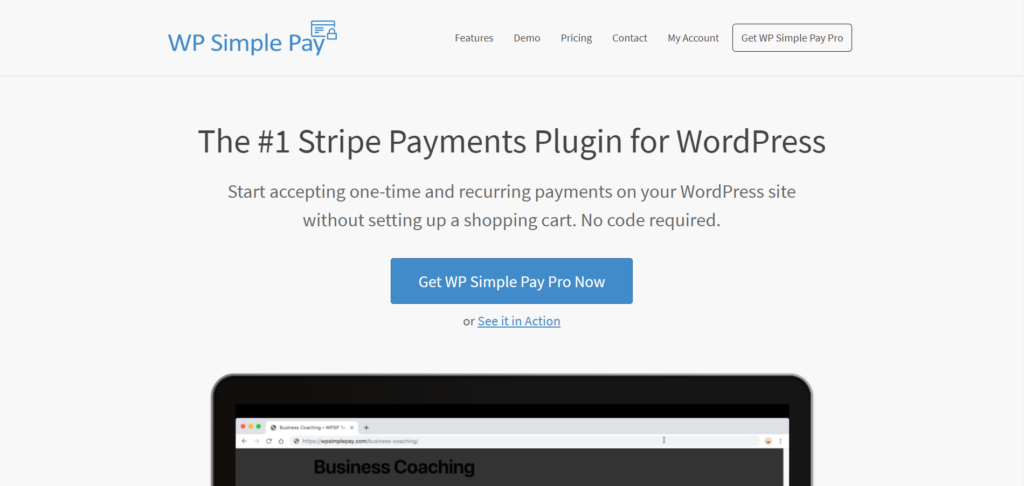 WP Simple Pay is a simple Stripe payment plugin for WordPress for selling digital and physical products. Comes from a very well-known company named EDD, which is one of the best plugins to sell digital products.
Features
Payment Collection
Collect all sorts of payments with ease and any sort of hassle. WP Simple Pay lets you skip all the complex stuff as well as a shopping cart system for your comfort.
Secure Payment
All sorts of payment processes are done through the secure server of Stripe which ensures fast and reliable transactions.
Form Builder
The drag & drop option of WP Simple Pay makes it easy to build a payment form. You can add all sorts of data in a matter of minutes.
Custom Fields
Need more data? Well WP Simple Pay got you covered.
Add all varieties of payment forms according to your needs. Numbers, dates, checkboxes, drop-downs, etc. can be placed easily on the forms.
Optimized for Portable Devices
WP Simple Pay is highly optimized to fit on small screens for mobile and tablets. Allows users to pay anytime and anywhere.
Custom Amounts
Allow your visitors to pay the amount they want. It comes in handy in charity or NGO websites where single and recurring donations take place. Some donors will definitely love the custom donation option, as well as PayPal donation, and make them want to do more good deeds.
Coupon Codes
Who doesn't like discounts?
Give your customers discounts which will help you get more traffic on your website while gaining some profits. You can create coupon codes for both recurring and one-time payments.
Non-Card Payment
Not all customers have credit cards. Allow your customers to pay directly from their bank accounts.
Integrations
Additional Features
Types of Form Display

Embedded Form Display
Overlay Form Display
Stripe Checkout
Use Stripe Checkout Payment Pages
Allow Custom Amount Payments
Add and Customize Subscription Options
Offer Discounts with Coupon Codes
Apply Pay
Google Pay
Customized Payment Confirmation Details
Locate and Currency Settings
Pricing
Personal: $99 per year consists of 1 site license.
Plus: $149 per year consists of 3 site licenses.
Professional: $249 per year consists of unlimited site licenses.
Ultimate: $499 per year consists of unlimited site licenses with lifetime plugin updates.
WPSmart Pay vs WP Simple Pay: Which One Actually Meets Your Business Needs?
After all the details, it is very natural for you to get confused and to understand which WordPress payment plugin is best for your business.
To whitewash those confused of yours, we are going to compare the features of both payment plugins.
So without further ado lets, compare the features of WPSmartPay and WP Simple Pay.
Throughout the comparison of WPSmartPay vs WP Simple Pay it's quite clear that WPSmartPay is far ahead with its PayPal and Paddle integration along with Stripe. Where WP Simple Pay is just a Stripe payment plugin
If we take a closer look at the features, both of them had almost the same and important features. WP Simple Pay lacked a few where WPSmartPay had those covered and the same goes the other way around.
Regarding the pricing, both payment plugins for WordPress are almost identical. However, considering value for money and license number WPSmartPay provides something more.
If you are willing to use your payment plugin on 1 to 5 websites, then taking WPSmartPay will be more logical. As they offer 5 site licenses at only $149.
But if you have more than 5 websites then choosing WP Simple Pay would be more profitable. As they offer unlimited site licenses for only $249.
On a side note, if you have more money to spare, you can consider taking the Ultimate package of WP Simple Pay. In this package, you will get not only unlimited site licenses but also lifetime plugin updates.
Wrapping Up
Just like we discussed earlier, the e-commerce community is increasing as we speak. More and more websites are going online and more e-commerce plugins are being used. It's very hard to imagine a website without a single payment gateway.
Even if you have a payment gateway, you might still see some unsatisfied customers. This will happen, as customers always look for options. People want to use what they are comfortable with.
But no matter how many options you have, getting a feature-packed payment plugin is never a bad idea and we can strongly recommend WPSmartPay as WP Simple Pay alternative.