Selling digital products has become an increasingly popular way for businesses and individuals to generate income online. WooCommerce, a powerful e-commerce plugin for WordPress, provides an excellent platform to sell digital products effortlessly.
To monetize your digital offerings successfully, setting up secure and convenient payment methods is crucial.
By integrating PayPal into your WooCommerce store, you can offer a convenient and widely recognized payment option to your customers. This not only enhances their shopping experience but also instills trust in your brand. With its robust features and global reach, PayPal has become a go-to choice for businesses of all sizes.
In this comprehensive guide, we will walk you through the process of configuring PayPal and other payment methods for selling your digital products on WooCommerce.
Why Should You Use PayPal Payment Gateway for WooCommerce?
PayPal is a household name in the world of online payments, and for good reason. With its wide-ranging popularity and trustworthiness, it has become the go-to choice for both customers and businesses. Paypal transactions totalled over 22.3 billion dollars in 2022.
When it comes to WooCommerce, one of the most popular e-commerce platforms, integrating PayPal as your primary payment gateway can offer a multitude of benefits.
PayPal for WooCommerce: Features & Benefits
In the previous section, we explored why PayPal is an excellent choice as the payment gateway for your WooCommerce store. Now, let's dive deeper into the specific features and benefits that make PayPal stand out as the preferred payment solution for e-commerce businesses.
Trust and Credibility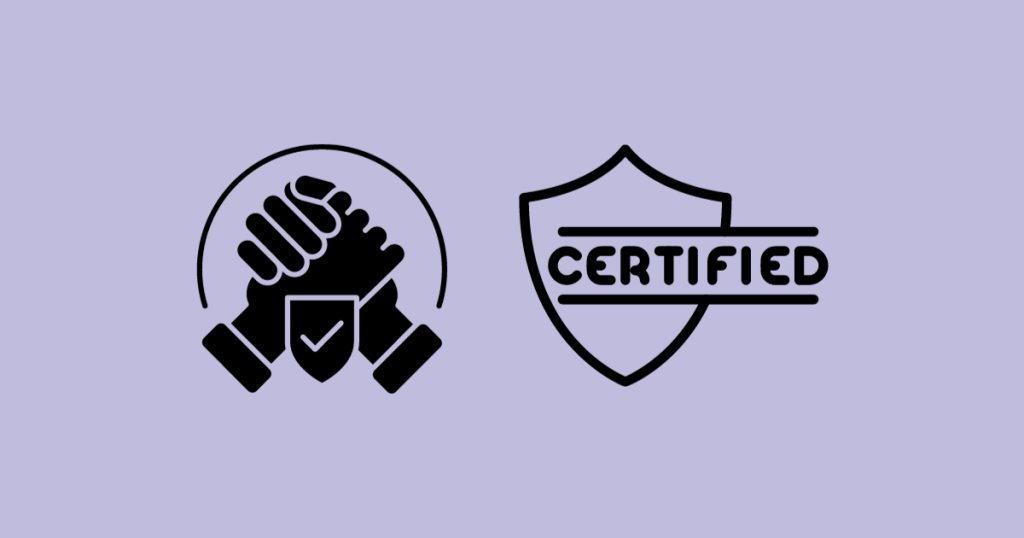 Imagine you're a shopper browsing an online store for the first time. You find some great products, and you're ready to make a purchase. But there's one nagging question in your mind: Can you trust this website with your hard-earned money?
Trust is a make-or-break factor in e-commerce. When customers trust a store, they're more likely to complete their purchases. And this is where PayPal comes into play.
PayPal has a stronghold of 42% of the global market when it comes to popular payment apps and interfaces which indicates that PayPal has already established its brand value as a premier online payments option.
It's a brand that people recognize and trust. When your customers see the familiar PayPal logo on your WooCommerce store, it's like a reassuring handshake. They know they're dealing with a legitimate, secure, and trustworthy business.
Global Reach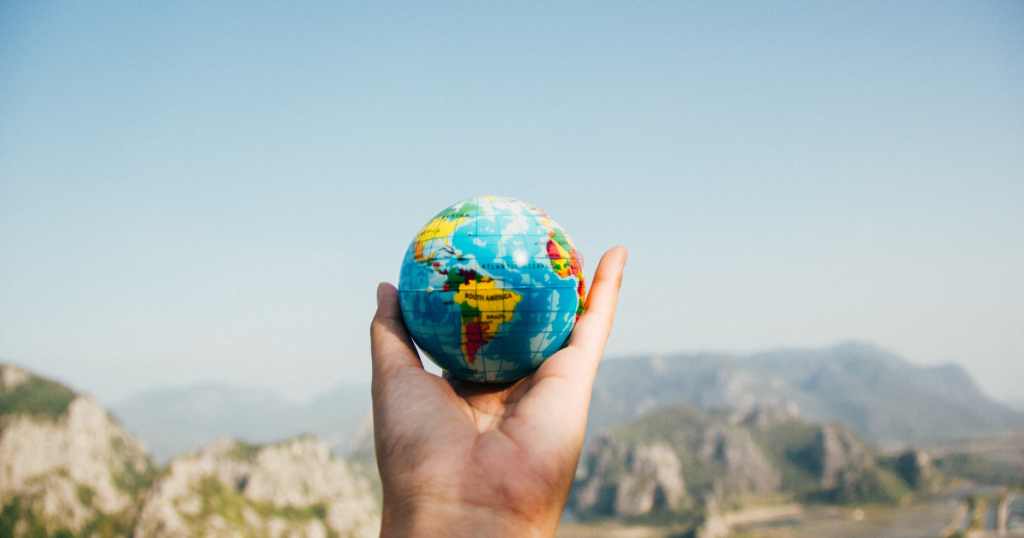 Imagine having a fantastic online store, but customers can't pay the way they want. That's where PayPal steps in as your global shopping passport. Customers can use it to buy from your store worldwide, making your shop available 24/7.
Customers love convenience, and PayPal delivers. With it, they can check out quickly, no credit cards or complex passwords needed. PayPal even remembers their info for next time, making shopping even smoother.
Selling globally? No worries! PayPal supports multiple currencies, building trust with international customers. It's like a friendly "welcome" sign for global buyers, connecting your store to the world, making their experience convenient and seamless.
Enhanced Security and Buyer Trust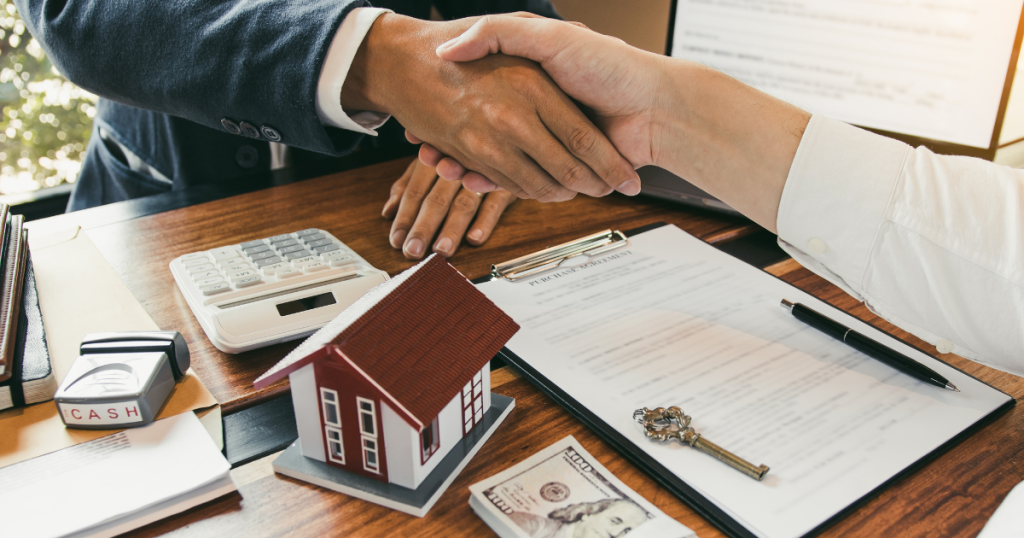 Security is paramount when shopping online. A safe and secure platform to purchase products puts a buyer's mind at ease but failing to do so can result in dire consequences. 80% of consumers in developed nations will drop a business if there is a risk of personal information leak in the event of a security breach.
You want assurance that your payment info is safe, and that's where PayPal plays a vital role. It's like having a personal bodyguard for your financial details, utilizing top-tier encryption and advanced fraud-detection tools to ensure the utmost security. When customers spot the PayPal logo, it's akin to a "Safe and Secure" stamp on your site.
One nifty feature is that customers don't need to divulge their credit card or bank account details on your site. With PayPal, they can make payments without sharing sensitive information, simply using their PayPal account. This keeps them happy and significantly reduces the risk of data breaches on your end.
Think of PayPal as your trusty e-commerce sidekick, a superhero by your side combating fraud while maintaining customer trust. Offering PayPal also grants you a trust badge, signaling to customers that safety is a top priority. Everyone appreciates a secure shopping experience, and PayPal delivers just that, safeguarding your e-commerce journey from the shadows and instilling confidence in your customers.
Express Checkout Options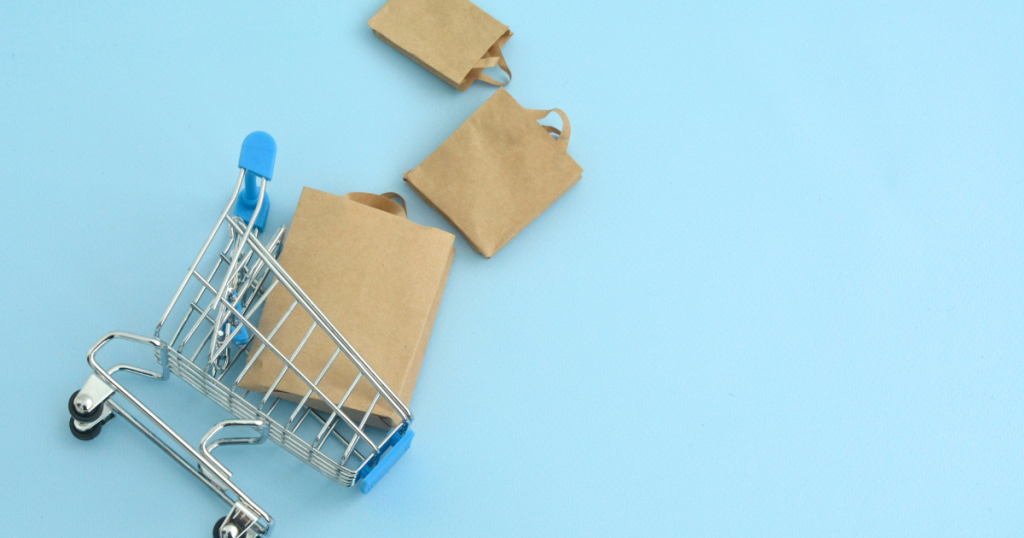 A long and complex checkout process can drive customers away. Filling out extensive forms and typing in credit card details can be as frustrating as hitting a traffic jam on your way to a party.
Now, enter PayPal. With PayPal's streamlined checkout, it's like having a VIP pass. Customers can effortlessly navigate the payment process with just a few clicks. No need to search for credit cards or remember lengthy strings of numbers. They can log in to their PayPal account, confirm the payment, and voilà – the order is complete! It's fast, hassle-free, and significantly reduces cart abandonment rates.
But here's where the real magic happens: PayPal not only speeds things up but also enhances security. When you use PayPal, you're not dispersing your financial information across multiple online stores. Instead, you're entrusting it to one reliable source, like having a secure vault for your payment details. Additionally, PayPal offers top-tier security features to safeguard your information from prying eyes and cyber threats.
So, your customers not only enjoy a swifter checkout experience but also gain added peace of mind, knowing their data is well protected. PayPal streamlines the entire checkout procedure, making it faster, safer, and more enjoyable for your customers – ultimately giving your sales a significant boost.
Multiple Payment Methods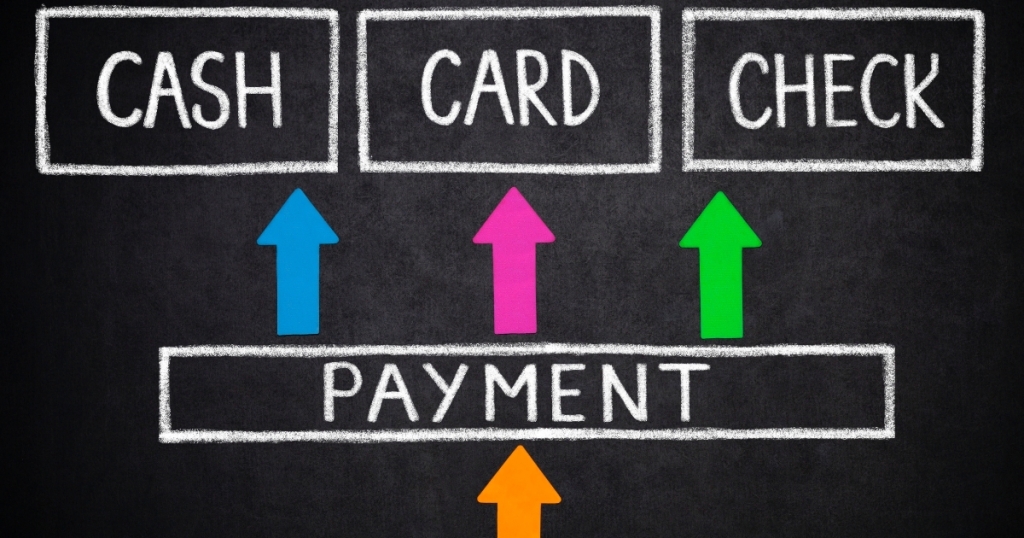 Imagine a potential customer excitedly browsing your online store, ready to make a purchase. However, they have a preference for paying with their credit card rather than using PayPal. Without multiple payment options, you risk losing this valuable sale.
This is precisely where PayPal's versatility shines. With PayPal seamlessly integrated into your WooCommerce store, you can effortlessly accept various payment methods. Whether your customers prefer major credit cards, debit cards, or PayPal accounts, you've got all bases covered. This flexibility is a game-changer because it caters to diverse customer preferences.
By offering multiple payment choices, you swing open the doors to a broader customer base. Some customers lean towards the ease of PayPal, while others are more comfortable with their trusted credit cards. With PayPal for WooCommerce, you can provide options for everyone, significantly enhancing your chances of closing sales and expanding your customer reach. It's all about convenience and inclusivity, ensuring that no potential sale slips through the cracks.
Setting Up PayPal as a Payment Method on WooCommerce
Integrating PayPal into WooCommerce is a straightforward process. Follow these step-by-step instructions to seamlessly incorporate PayPal as a payment option for your online store. Please note that these instructions are based on the assumption that you already have a WooCommerce store set up.
Step 1: Log in to Your WordPress Admin Dashboard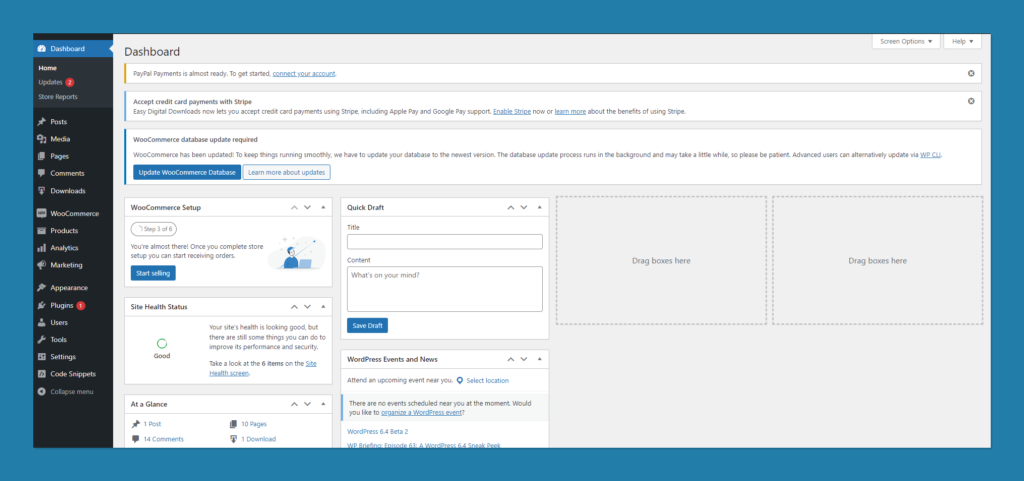 Start by logging in to the admin dashboard of your WordPress website where WooCommerce is installed.
Step 2: Navigate to WooCommerce Settings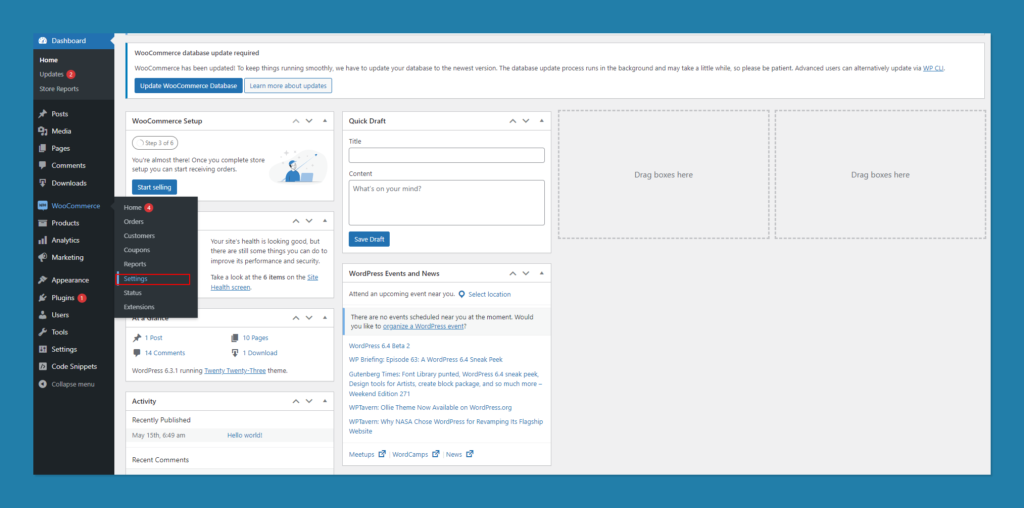 In the left-hand sidebar, hover over "WooCommerce" and click on "Settings."
Step 3: Access the Payments Tab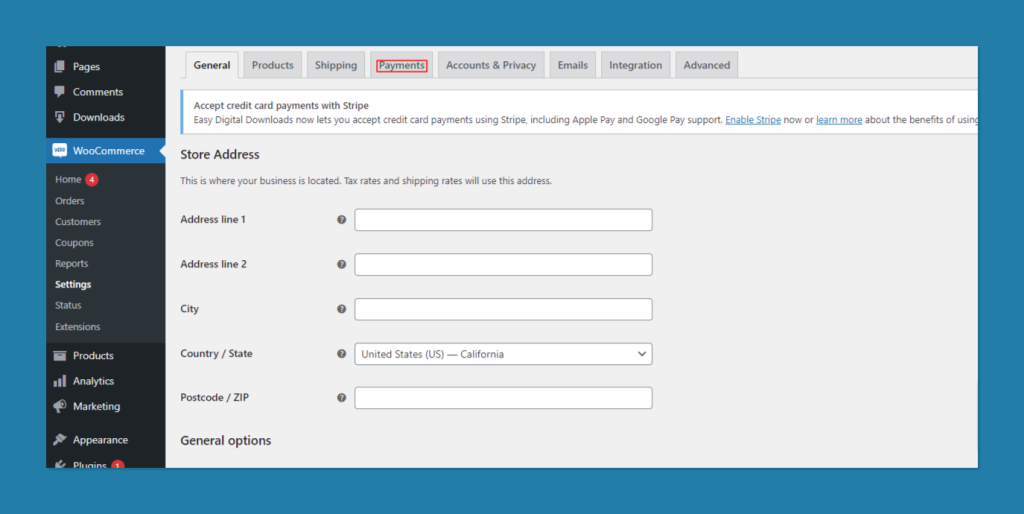 Within the WooCommerce Settings, click on the "Payments" tab at the top of the screen. This is where you'll manage your payment gateways.
Step 4: Enable PayPal

Scroll down the Payments settings page to find the available payment methods. Locate "PayPal" from the list of payment gateways and click "Enable". If you can't find the PayPal plugin in the list then you need to download it from the plugins list and then activate it. This is how you do it: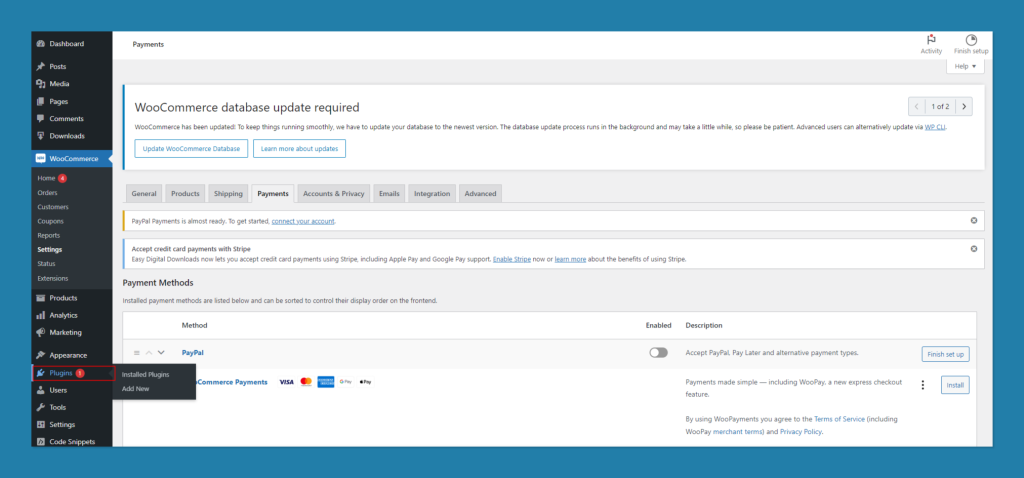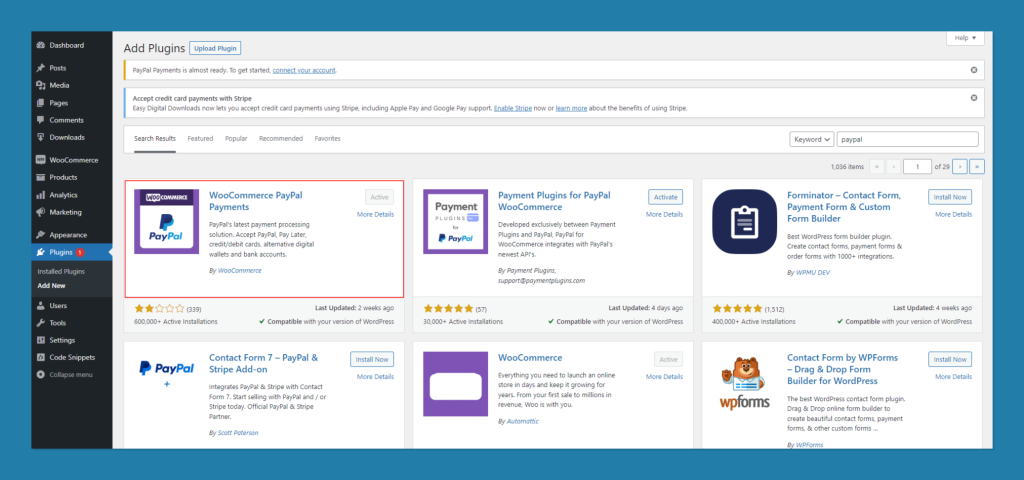 Step 5: Configure PayPal Settings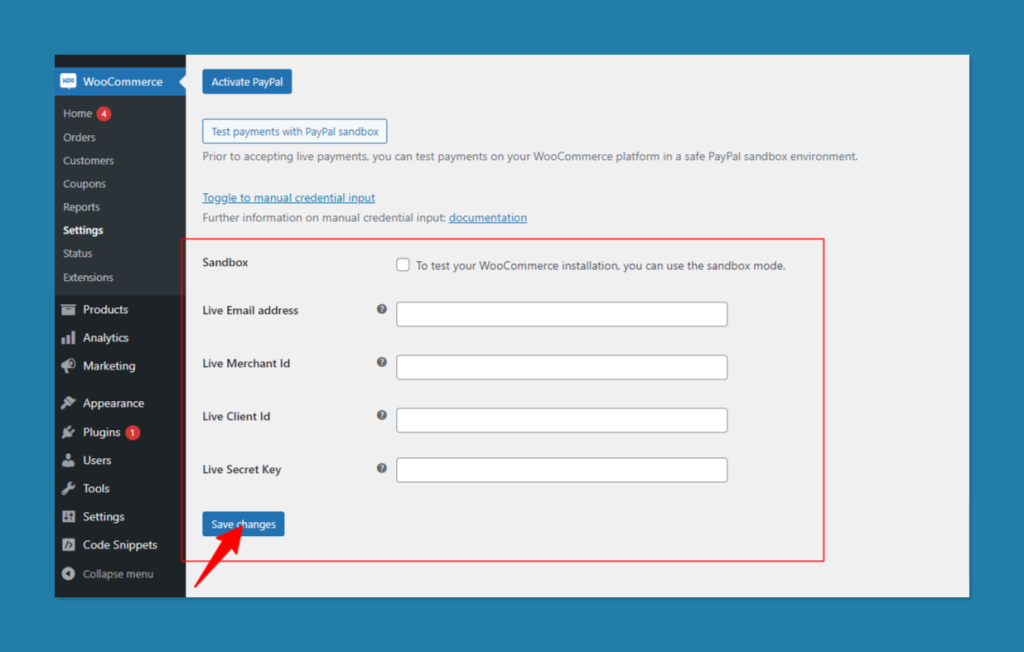 Once enabled, you'll see a section titled "PayPal" where you can configure your PayPal settings. Here's what you'll need to set up:
Enable/Disable: Ensure that the PayPal payment method is enabled.
Title: Enter the title you want to display for PayPal during checkout (e.g., "Pay with PayPal").
Description: Add a brief description that will appear on the checkout page, explaining PayPal as a payment option.
Email: Enter the email associated with your PayPal business account.
Payment Action: Choose whether you want to capture funds immediately ("Capture") or authorize them to capture later ("Authorize") when an order is placed.
API Credentials: Depending on your specific PayPal integration method (e.g., PayPal Standard, PayPal Express), you'll need to enter the required API credentials. PayPal will provide these credentials when you set up your business account. Be sure to enter them correctly.
Sandbox Mode: If you're testing the integration in a sandbox environment, you can enable this option. It's recommended to test your PayPal integration in sandbox mode before going live.
Debug Mode: You can enable this for debugging purposes. It logs information about PayPal transactions, which can be helpful for troubleshooting.
After configuring your PayPal settings, click the "Save changes" button at the bottom of the page to save your changes.
Step 6: Test the Integration (Optional)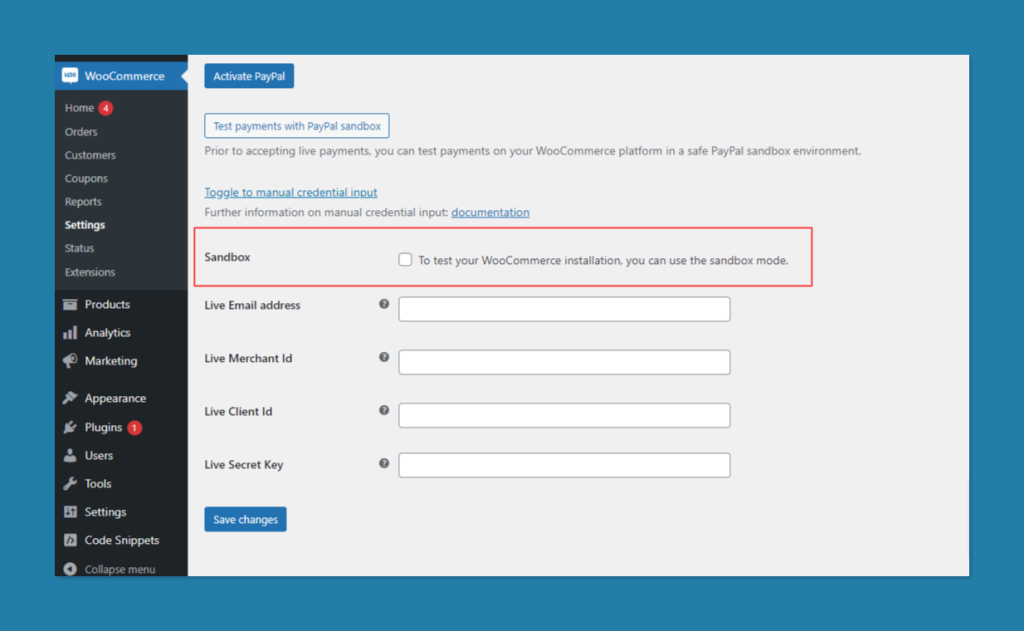 Before making PayPal live on your site, it's advisable to conduct a test transaction using the PayPal sandbox environment.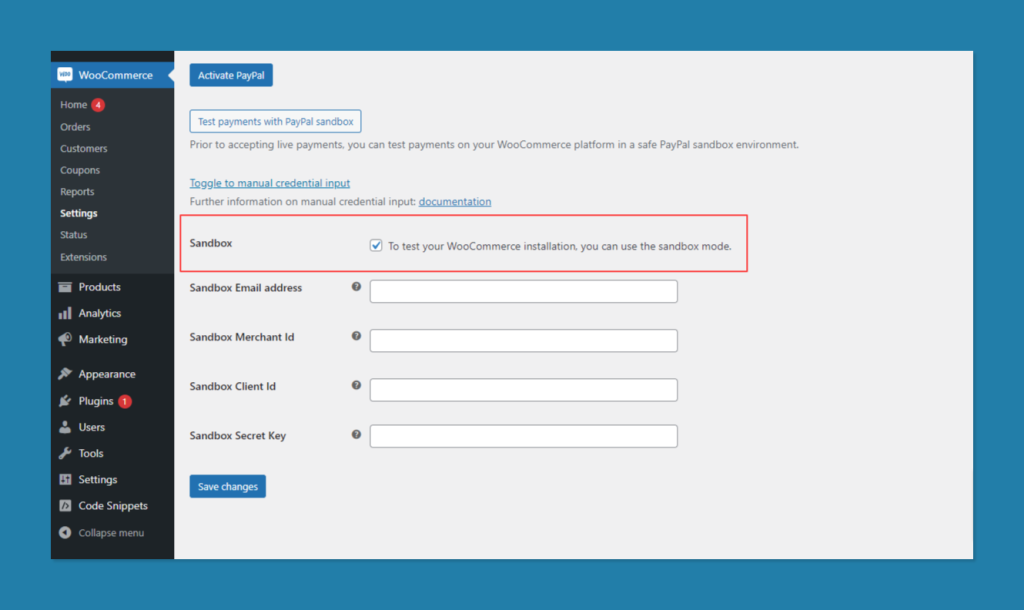 If you don't have a sandbox email address check out this link to get detailed instructions on how to set it up. After setting up you can create sandbox accounts on the PayPal Developer dashboard for testing purposes.
Step 8: Make PayPal Live
Once you've successfully tested the integration, return to the PayPal settings in WooCommerce, uncheck the "Sandbox Mode" if enabled, and save your changes. Your customers can now use PayPal to make secure payments on your WooCommerce store.
Congratulations! You've integrated PayPal as a payment method in WooCommerce, providing a trusted and convenient payment option for your customers.
Adding Other Payment Methods
When it comes to running a business on WooCommerce, offering multiple payment methods is essential to cater to a wide range of customer preferences. While PayPal is a popular and trusted choice, it's wise to provide additional payment gateways to ensure you don't lose potential sales due to limited options.
Let's look at how to expand your payment horizons by integrating popular payment gateways, installing relevant plugins, configuring these methods, and conducting necessary tests.
Popular Payment Gateways
Before diving into the technical aspects of integrating payment gateways, it's crucial to decide which ones align with your target audience and business model. Here are a few popular payment gateways to consider:
Paddle

Paddle is a comprehensive e-commerce platform that simplifies software sales, subscription management, and payment processing for digital businesses. There are two plugins that are specifically developed for Paddle that you will find very helpful. The first one, Paddle for WooCommerce, a plugin designed to streamline your checkout process with Paddle's WooCommerce integration. The second one, Paddle for EDD, a plugin designed to connect with Paddle and accept one-time and recurring payments easily with Easy digital downloads payment gateways.
Stripe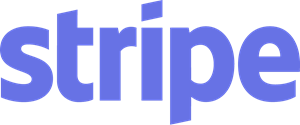 Known for its developer-friendly approach and global reach, Stripe is a versatile choice. It supports various payment methods, including credit and debit cards, Apple Pay, Google Pay, and more.
Square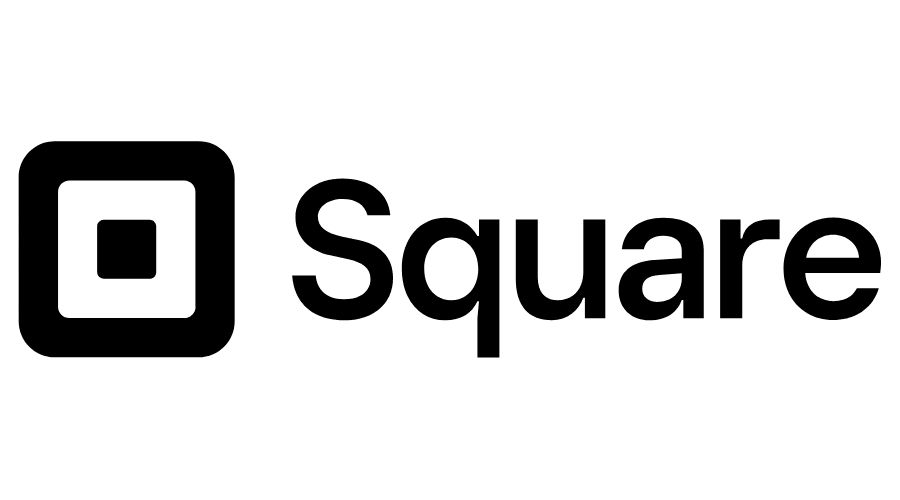 If you have a physical store or often engage in in-person transactions, Square offers a seamless integration between online and offline payments. It's known for its simplicity and transparent pricing.
Authorize.Net

A well-established gateway, Authorize.Net provides robust security and reliability. It supports a wide range of payment methods and can be an excellent choice for businesses with high transaction volumes.
Amazon Pay

Leveraging the trust and convenience associated with Amazon, this gateway allows customers to use their Amazon account credentials for quick and secure payments on your site.
2Checkout (now Verifone)

2Checkout is now part of Verifone, offering a global payment platform that accepts multiple payment methods and currencies. It's a suitable choice for international expansion.
Installing Paddle for WooCommerce Payment Gateway Plugins
The process of integrating other payment methods in WooCommerce is similar to how you integrate Paypal. Once you've selected the payment gateways that suit your business, the next step is to install the necessary plugins be it Paypal or any other. WooCommerce provides a vast library of payment gateway plugins that simplify the integration process. Lets look at Paddle for WooCommerce as an example. Here's how to install it:
Step 1: Creating a Paddle Account
Visit the Paddle website and complete the registration process by providing the required information to create a Paddle account.
Step 2: Installing and Activating Paddle for WooCommerce Plugin
Access your WordPress dashboard and navigate to the "Plugins" section.
Click "Add New" and upload the "Paddle for WooCommerce" plugin. Ensure you've downloaded it beforehand.
Click "Install Now" and activate the plugin after installation.
Step 3: Configuring Paddle Settings
Head to the WooCommerce settings page within your WordPress dashboard.
Click on the "Payments" tab, where you should find the Paddle payment gateway listed.
Click on the Paddle payment gateway to access its settings.
Step 4: Adding Paddle API Credentials
Retrieve your Paddle API credentials from your Paddle account settings.
In the WooCommerce settings, paste these API credentials into the corresponding fields.
Step 5: Setting Up Accepted Currencies
Within the Paddle settings, specify the currencies you wish to accept for payments.
Choose the currencies that align with your business needs and save your currency settings.
Step 6: Enabling Test Mode for Testing
Before going live, it's advisable to test the integration. In the Paddle settings, enable the test mode.
This mode allows you to simulate transactions for testing purposes without processing actual payments.
Testing is crucial to ensure the integration functions smoothly before accepting real payments.
To get a more detailed step by step with illustrated images check out the following link.
Configuring Paddle for WooCommerce Payment Method
After installing a payment gateway plugin, you'll need to configure its settings to ensure it works seamlessly with your e-commerce store. The specific configuration options vary depending on the gateway you've chosen. Typically, you'll need to enter credentials provided by the payment gateway provider, such as API keys or account details. WooCommerce provides clear instructions for each payment method, making it easier to set up. Below is the configuration details page of Paddle for WooCommerce.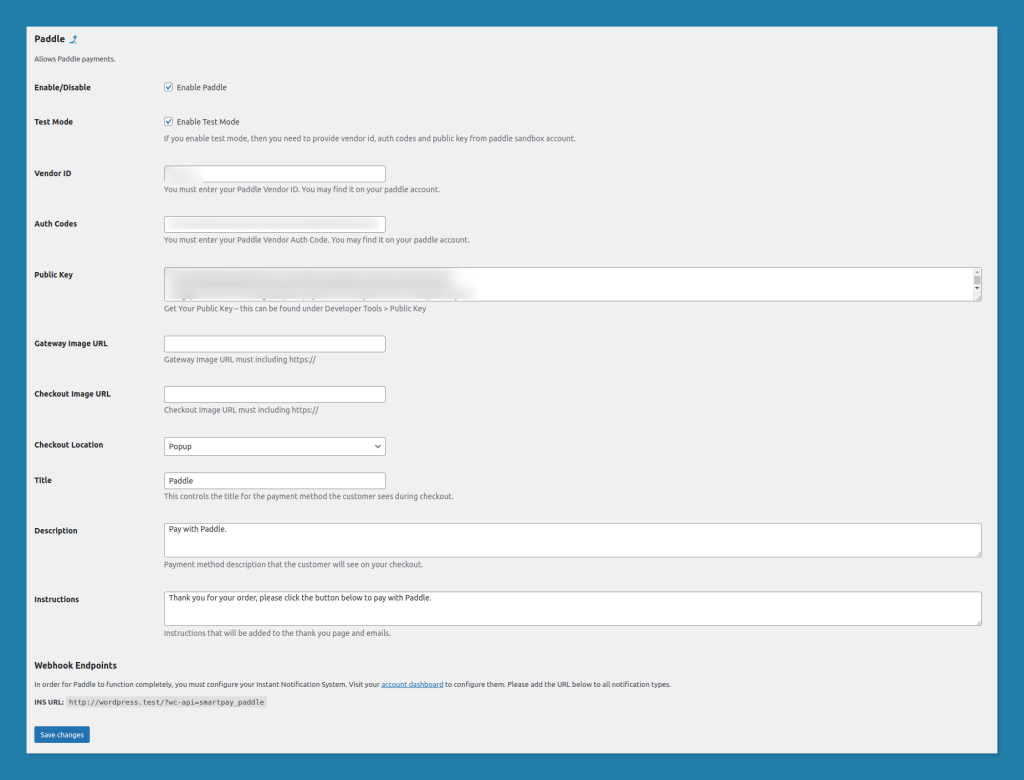 Testing Paddle Payment Methods
Before making these payment methods live on your site, it's crucial to conduct thorough testing to ensure they function correctly. This includes making test transactions with different payment methods to verify that payments are processed accurately. WooCommerce often provides sandbox or test mode options for payment gateways, allowing you to simulate transactions without affecting real orders.
For example, If you want to test out Paddle for WooCommerce, you can easily do so by signing up for a Paddle sandbox account and test your plugin in their sandbox environment.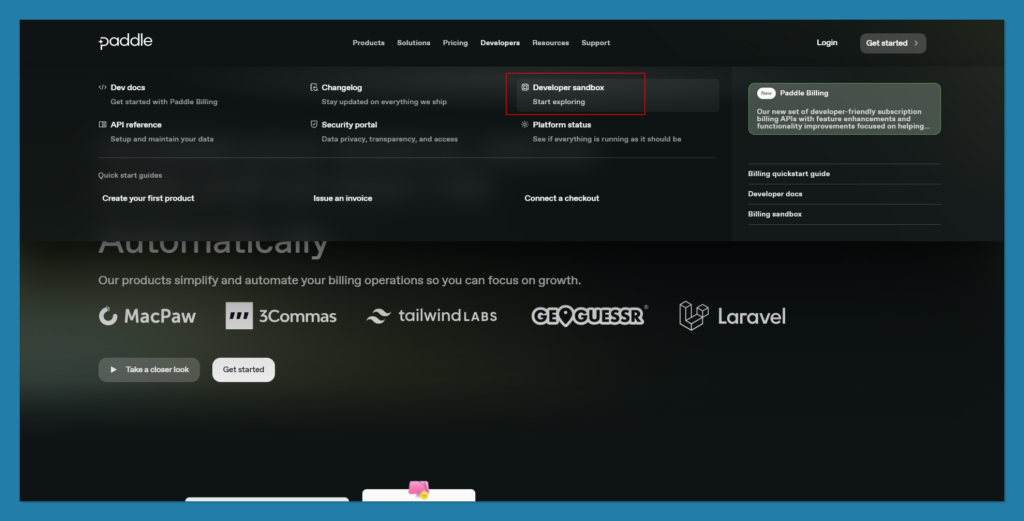 Expanding your payment options beyond PayPal can enhance customer satisfaction and increase your store's accessibility. By integrating popular payment gateways, installing relevant plugins, configuring settings, and conducting rigorous testing, you'll provide a seamless and versatile payment experience for your customers.
Ensuring Security and Compliance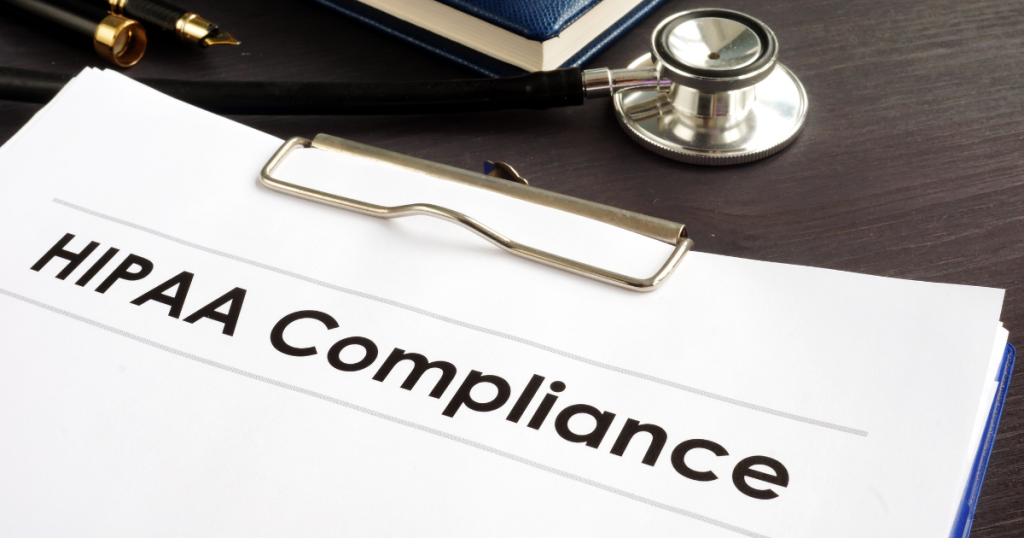 Security and compliance are paramount when handling customer payments. Ensuring that your online store is a safe and trustworthy place to make purchases builds confidence among your customers. In this section, we'll explore three essential aspects of securing your payment process: SSL certificate installation, PCI DSS compliance, and maintaining a secure checkout process.
SSL Certificate Installation
An SSL (Secure Sockets Layer) certificate encrypts the data exchanged between your website and your customers' browsers. This encryption is essential for protecting sensitive information, such as credit card details and personal data, during transactions. Here's how to install an SSL certificate:
Purchase an SSL Certificate: Obtain an SSL certificate from a trusted certificate authority (CA).
Generate a Certificate Signing Request (CSR): Your web hosting provider can assist in creating a CSR.
Install the SSL Certificate: Follow your hosting provider's instructions to install the certificate on your server.
Update Your Website: Make sure your website's URLs are set to use "https://" instead of "http://." This ensures that your entire site is secured.
You may also read: How to Implement SSL Certificate on WooCommerce to Ensure Secure Transactions?
PCI DSS Compliance
The Payment Card Industry Data Security Standard (PCI DSS) outlines security requirements for businesses that handle cardholder information. Complying with PCI DSS helps protect both your customers and your reputation. Here's how to maintain PCI DSS compliance:
Understand PCI DSS Requirements: Familiarize yourself with the specific requirements outlined in the PCI DSS standard.
Secure Cardholder Data: Implement encryption, access controls, and regular security assessments to safeguard cardholder data.
Use PCI DSS-Compliant Payment Processors: Choose payment processors that are PCI DSS compliant to minimize your compliance responsibilities.
Regular Audits and Assessments: Conduct regular security assessments and audits to ensure ongoing compliance.
Secure Checkout Process
A secure checkout process is vital for customer trust. Ensure that your checkout pages are free from vulnerabilities and provide a smooth experience for shoppers. Here are some best practices:
Regular Security Audits: Perform security audits of your checkout process to identify and address potential vulnerabilities.
Use CAPTCHA: Implement CAPTCHA tests to prevent automated bots from accessing your checkout pages.
Offer Guest Checkout: Allow customers to complete purchases without requiring them to create an account, but also provide the option to create an account for future convenience.
Display Security Badges: Showcase security badges from reputable sources to assure customers of the safety of their transactions.
Optimizing the Customer Payment Experience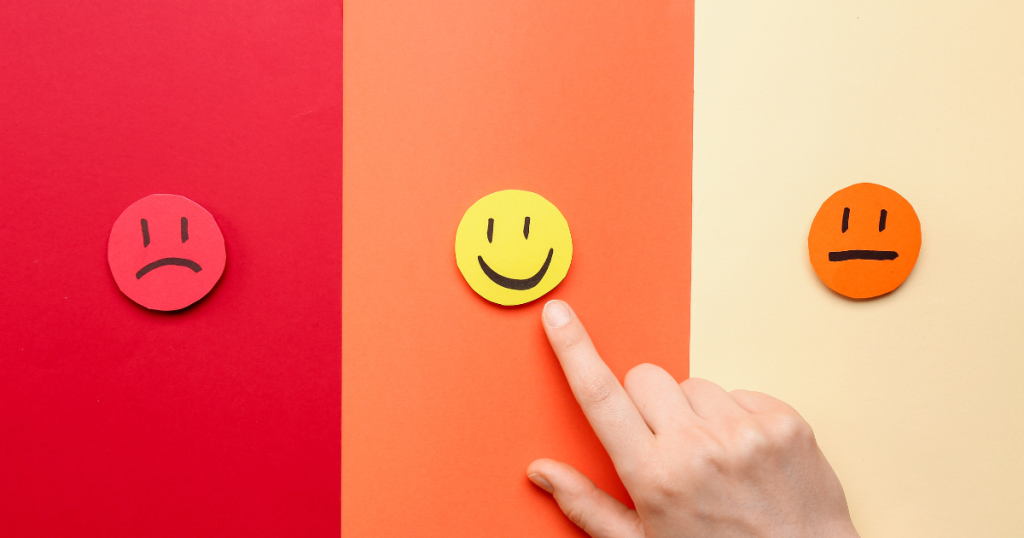 Creating a seamless and enjoyable payment experience is crucial for retaining customers and encouraging repeat purchases. Let's explore how to optimize the customer payment experience by streamlining the checkout process, offering multiple payment options, and ensuring mobile-friendliness.
Streamlining the Checkout Process
As discussed previously, A lengthy and complex checkout process can result in cart abandonment, hindering potential sales. To mitigate this, streamline the process by minimizing form fields, requesting only essential information for quicker completion.
Implement auto-fill features that automatically populate fields such as addresses, enhancing convenience. Utilize progress indicators, such as progress bars or steps, to visually guide customers through the checkout journey, keeping them informed about their progress.
Offering Multiple Payment Options
Offering multiple payment options is a pivotal aspect of enhancing the customer payment experience in your WooCommerce store. This approach recognizes that not all customers have the same payment preferences or access to specific payment methods. By providing a variety of payment choices, you significantly broaden your potential customer base and increase the likelihood of successful transactions.
One key advantage of offering multiple payment options is the ability to cater to a diverse audience. Some customers might prefer the ease and familiarity of using PayPal, while others may feel more comfortable using their credit cards directly. Certain regions or demographics may have a strong preference for specific payment methods, and by accommodating these preferences, you create a more inclusive shopping environment.
Moreover, multiple payment options mitigate the risk of cart abandonment. Imagine a potential customer who is excited about making a purchase on your website. However, they might not have a PayPal account or simply prefer not to use it.
If PayPal is the only payment method available, you risk losing this valuable sale. By providing alternative options like credit card payments or digital wallets, you ensure that customers can choose the method that suits them best, reducing the chances of abandoned carts and increasing the conversion rate.
Mobile-Friendly Payment Methods
Implementing mobile-friendly payment methods is another crucial step in optimizing the customer payment experience within your WooCommerce store. In an era where a significant portion of online shopping occurs on mobile devices, ensuring that your payment methods are seamlessly accessible and usable on smartphones and tablets is paramount.
One fundamental aspect of mobile-friendly payment methods is responsiveness. Your payment gateway should adapt effortlessly to various screen sizes and orientations, providing a smooth and visually pleasing experience for mobile users. A responsive design ensures that buttons, input fields, and payment options are comfortably accessible and easy to interact with on smaller screens.
Moreover, the mobile payment process should be streamlined and straightforward. Complex or lengthy payment forms can be particularly frustrating for mobile users, leading to potential cart abandonment. Therefore, optimizing the checkout process for mobile devices involves minimizing form fields, implementing auto-fill features, and providing clear progress indicators. These enhancements reduce friction and enhance the overall ease of making a payment on a mobile device.
Furthermore, offering mobile-specific payment options such as digital wallets (e.g., Apple Pay, Google Pay) or one-click payments can significantly enhance the mobile shopping experience. These methods eliminate the need for users to manually enter payment details on their mobile devices, making transactions quicker and more convenient.
Troubleshooting Payment Issues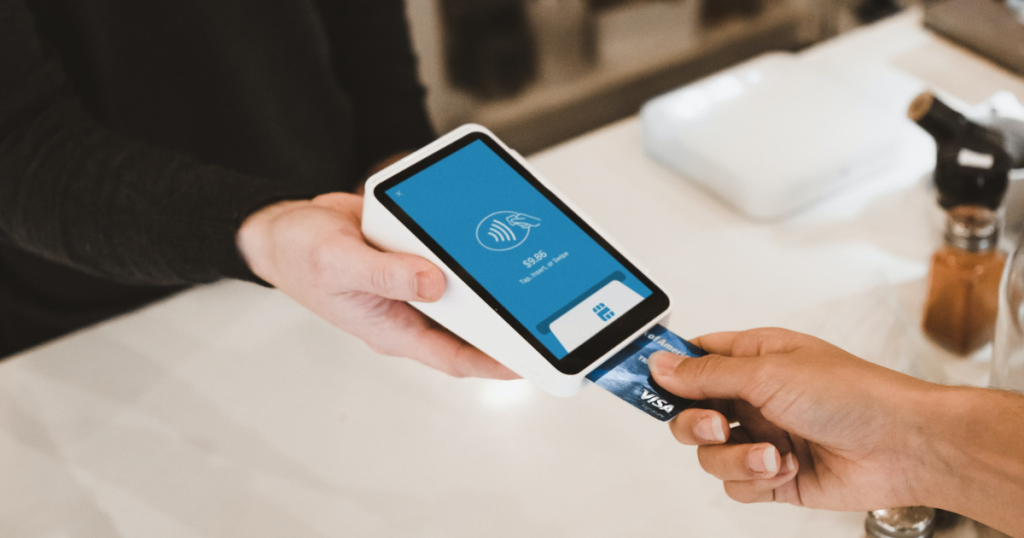 Despite your best efforts, payment issues may arise. Being prepared to address these problems is essential to maintain customer satisfaction. In this section, we'll discuss common payment problems, debugging and testing procedures, and seeking support and resources.
Common Payment Problems
Common payment issues can disrupt the smooth shopping experience customers expect, leading to frustration and cart abandonment. It's vital to identify and address these problems proactively for successful transactions.
Common challenges include payment declines due to insufficient funds, technical errors, and fraudulent transactions.
To mitigate these issues, offer real-time feedback, monitor gateway performance, employ fraud-detection tools, and maintain clear return policies.
Another thing to keep in mind is to ensure compatibility with various devices and browsers to prevent payment hindrances. Taking these measures will most certainly enhance your customers' payment experience and boost satisfaction.
Debugging and Testing
It goes without saying that through testing can only lead to a more refined product. Debugging and testing are crucial steps in ensuring your payment gateway functions flawlessly. To effectively address issues and prevent transaction hiccups, follow these steps:
Test Payments: Before going live, conduct thorough payment tests with various payment methods and scenarios. Ensure successful transactions, refunds, and error handling.
Monitor Transaction Logs: Regularly check your transaction logs for errors, failed payments, or unusual activities. Investigate and resolve any anomalies promptly.
Cross-Browser Testing: Test your payment process across different web browsers to verify compatibility and functionality. This helps prevent issues specific to certain browsers.
Mobile Responsiveness: Ensure that your payment gateway works seamlessly on mobile devices. Test the process on various smartphones and tablets to provide a smooth mobile experience.
Error Handling: Implement clear error messages for customers during payment failures. These messages should guide users on how to resolve the issue or provide alternative payment methods.
Load Testing: Perform load testing to assess how your payment system handles high traffic loads. Ensure it can maintain performance during peak periods.
Security Checks: Regularly review and update your security measures to protect against potential vulnerabilities and fraud attempts.
User Testing: Enlist real users to test the payment process and gather feedback. This can uncover usability issues you might have missed.
Remember, the transaction process is the most important step in a customer's buying journey. If a transaction process is not optimized to give the fastest and most hassle free experience to a customer trying to make a purchase, you run the risk of churning that customer. By diligently debugging and testing your payment gateway, you can identify and rectify potential problems before they impact your customers, resulting in a smoother and more reliable payment experience.
Seeking Support and Resources
When you encounter payment issues or need help, here's what you can do: Start by getting in touch with your payment gateway provider's customer support. They can provide personalized solutions and insights.
Next, explore the official documentation and user guides, which often contain step-by-step instructions and valuable troubleshooting tips. You can also join online forums and communities related to your payment gateway to learn from others who've faced similar challenges.
Don't forget to check if your provider has a knowledge base with articles and frequently asked questions. You can also find helpful video tutorials on platforms like YouTube for visual guidance.
If you use third-party plugins or integrations, consider reaching out to their developers for assistance. And if you're dealing with particularly complex issues, you might want to consult payment gateway consultants or involve your internal team, including developers and IT experts, to collectively address and resolve the problems affecting your online store's payments.
Conclusion
Selling digital products on WooCommerce can be a lucrative venture when done correctly. By following this comprehensive guide, you will be well-equipped to set up PayPal and other payment methods, ensuring a seamless shopping experience for your customers.
Remember that building trust and offering excellent customer support are essential aspects of running a successful digital product business. So, take the time to optimize your store, and watch your digital products soar in popularity and profitability. Happy selling!